1st SUNRAISE MOOC "Sustainable Development of Mountain Territories in the Context of the Concept of Ecosystem Services" is now available in English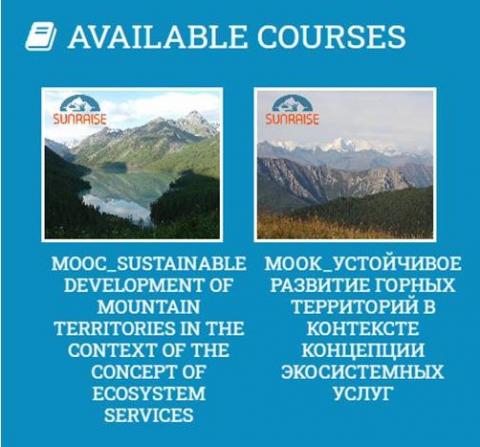 The MOOC is a result of teamwork of Gorno-Altaisk State University and Kumaun University. The course is offered free of charge and is accessible all year round (no exact starting days). Self-registration for the course is available at http://sunraise.gasu.ru/?lang=en.
This educational resource is intended for university students, schoolchildren, teachers and a wide range of people interested in the issues of sustainable development of mountain territories and ecosystem services.
Like its Russian version, the MOOC includes 6 topics (General Characteristics of Mountain Territories, Biological Diversity of Mountain Territories, Global Significance of Mountain Territories, Ecosystem Services: Essence and History of Development, Economic Valuation of Ecosystem Services, and Threats to Mountain Ecosystem Services and Their Restoration), each consisting of an introductory video, a text for reading with interactive links, a revision presentation, and a test for self-control. After completing the course, the students should perform the final test covering all topics. The course is considered successfully completed if no less than 70% of tasks are performed correctly.
We invite everyone to join this MOOC and wish every success in studying it!
Introductory video for MOOC is available here.