Piloting of the SUNRAISE Module 1 in Royal University of Bhutan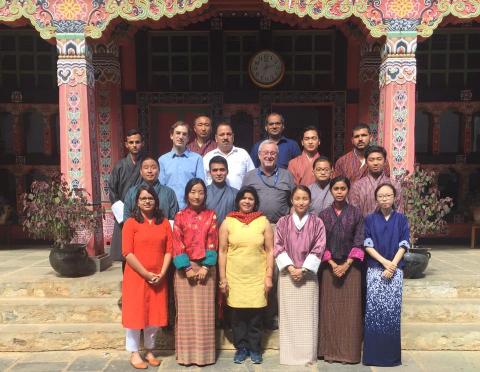 The piloting of the Module 1 called "Ecological aspects of urbanization in mountain areas" was successfully executed on August 14-15, 2019 in the Royal University of Bhutan.
The following teachers (lecturer team) were involved:
Prof. P.K. Joshi,

Jawaharlal Nehru University

;
Prof. Prakash C.Tiwari,

Kumaun University

;

Prof. Bhagwati Joshi,

Kumaun University;
Univ.-Prof. Dr. Jürgen Breuste,

Paris Lodron University of Salzburg;

Marc Gimenez Maranges,

Paris Lodron University of Salzburg

.
The course was conducted by Prof. J. Breuste, PLUS and prepared by Prof. J. Breuste, PLUS and M. Gimenez Maranges, PLUS. The course consisted of 8 lectures and adjacent to them seminars or exercises. Teaching materials and course schedule were provided by PLUS to RUB in advance for distribution and preparation of the participants.
Prof. J. Breuste summarized the results of piloting: "All the course lecturers were very well prepared, presented excellent and guided very good to the lectures connected seminars. I thank the lecturers very much for their engaged and enthusiastic teaching which made the piloting a great success! The course participants were very interested, engaged and actively participating in the course, especially in the exercises in group works. The piloting was a great success and gave new ideas to the participants for their further studies. The provided knowledge connected very well to the already existing knowledge of participants from different study backgrounds which could be included into the discussions and communications."
Photo report, Piloting Schedule and official report are attached for additional information.