2nd SUNRAISE regional meeting of stakeholders in Gorno-Altaisk State University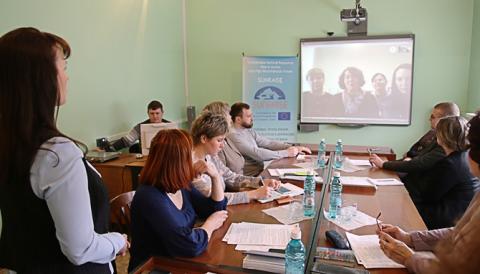 On February 26, 2019, a round table "Enhancing the effectiveness of preparing specialists in the sphere of sustainable use of natural resources in the Altai Republic" was held in Gorno-Altaisk State University. The meeting gathered the representatives of regional protected areas (Katunskiy & Altaiskiy Biosphere Reserves, Sailygemskiy National Park), the Directorate for Protected Areas of the Altai Republic, NGO "Altai-Sayan Mountain Partnership", Siberian Federal University, administration and faculty of Gorno-Altaisk State University.
One of the key objectives was the presentation of the Collaborative Platform Aimed at Assisting the Sustainable Development of the Altai-Sayan Ecoregion. The establishment of the Platform was initiated by Gorno-Altaisk State University and Altai-Sayan Mountain Partnership. This Collaborative Platform welcomes universities, research institutions, NGOs and other stakeholders, which stand ready to contribute to the sustainable development of the Altai-Sayan ecoregion and mountain territories in general. Katunkiy Biosphere Reserve became the first organization to join the agreement.
The participants also discussed the mechanisms for more active involvement of potential employers into the education process of the university and developed a detailed plan for cooperation of Gorno-Altaisk State University and Siberian Federal University, when and where possible, with other participants of the round-table for the coming years. The proposed collaboration would include join scientific projects, organization of practices and field research for students under the supervision of potential employers, participation of representatives of employers in the educational process (teaching, curricula and syllabi development, advising and co-advising BSc/MSc final theses, etc.) and other joint activities.
The first event under the Platform "The Day of Katunskiy Biosphere Reserve" was held at the university the same day and gathered more than 70 students and school children. The organizers prepared a photo exhibition, gave several master classes telling the students about the everyday work of the reserve's staff members and made a challenging quest.