RSHU students took part in 2019 ARCTIC FRONTIERS: SMART ARCTIC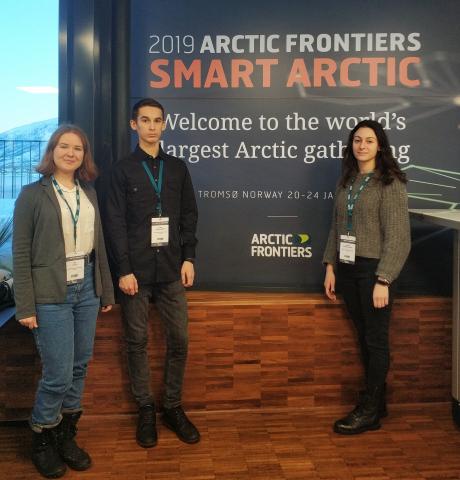 Alla Govor, Ksenia Korobchenkova and Timur Nisamutdinov, MSc students of the program called «Ecological problems of big cities and industrial areas» of Russian State Hydrometeorological University participated in the 13th conference of 2019 ARCTIC FRONTIERS with the theme "Smart Arctic".
The conference took place in Tromso (Norway) on January 20-24, 2019. Arctic Frontiers provides a forum for dialogue and communication between science, government and industry in the Arctic.
In 2019, the Arctic Frontiers plenary program had five main sessions with the following tentative working titles: State of the Arctic, Blue Growth, Smart Solutions, Bridging the gap and Arctic business prospects. Following the plenary, there was an abstract driven science program addressing Plastics in the Ocean, the Future of Governance and Handling Vulnerability in Arctic Ecosystems, State of the Arctic and A Smart Arctic Future.
RSHU students presented their MSc projects on the conference related to current problems of Arctic exploration and World Ocean as a whole.
Alla Govor presented her research on «Interannual variability of yearly stock of dissolved solids in Pechora river» in the session «State of the Arctic».
Ksenia Korobchenkova reported about «Pathways of Microplastics: from Siberian south to the Arctic» in the session «Plastics in the Ocean» and participated in the panel discussion on international cooperation in plastics pollution monitoring in the ocean.
Timur Nisamutdinov showed his presentation «Human Health Risk Assessment as a Foundation for Sustainable Urban Development» in the session «Smart Arctic Future».
The students gained experience of a lifetime participating in the conference as they had a chance to attend plenary sessions with the leading experts performed as well as learn new research methods and experiences of other countries and share their own ideas and views in front of the international audience.